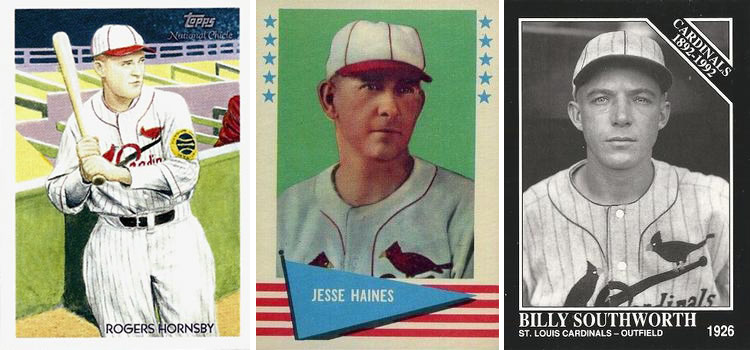 Jesse Haines didn't single-handedly beat the New York Yankees in Game 3 of the 1926 World Series – it just seemed that way.
Haines' major league career started in 1915 with the Detroit Tigers, where he spent two months but never appeared in a game. While Haines was frustrated by his lack of playing time, he did get a vote of confidence from Ty Cobb.
"Say, kid, you've got something on that fastball," Cobb reportedly told him one day. "It's hard to follow and someday they're going to be reading about you."[1]
They would indeed, but not because of Haines' fastball. In 1919, Branch Rickey borrowed $10,000 to purchase Haines. The 26-year-old rookie threw 301 2/3 innings for the Cardinals the following year, going 13-20 while relying on his fastball and curve. Realizing he needed something else, he learned the knuckleball from Philadelphia A's pitcher Eddie Rommel.[2]
Unlike Rommel, Haines threw a hard knuckleball that dove down in the zone instead of fluttering to the plate. However, just like any other knuckleballer, Haines needed a feel for the pitch to be effective. Though Haines threw the first no-hitter in Cardinals history on July 17, 1924, he limped to an 8-19 record that season. In 1925, he went just 13-14 with a career-high 4.57 ERA.
Haines turned things around in 1926 when he added a change-up to his repertoire. That, combined with the rediscovery of his knuckleball, helped him to a 13-4 record and a 3.25 ERA during the regular season.
Manager Rogers Hornsby rewarded Haines with the start in Game 3 of the World Series, following on the heels of Pete Alexander's four-hitter two days earlier. Haines, who pitched an inning of relief in the Game 1 loss, was matched up against Dutch Ruether, a 32-year-old left-hander the Yankees had acquired from the Washington Senators in August.
Just a couple hours after Game 2, both teams had boarded trains and raced back to St. Louis. The Yankees, who had taken the 1,150-mile trek through the "Big Four" – the Cleveland, Cincinnati, Chicago, and St. Louis Railways – beat the Cardinals back to St. Louis, making the trek in 23 ½ hours.[3] When the two teams arrived, the New York Daily News reported, they received vastly different greetings.
"When the Cardinals arrived here yesterday, they gave the team an ovation that defies comparison," Mark Hellinger reported. "There were parades and cowbells and horns and bombs and bums and whatnots. Instead of a welcome for a ball team you'd think it was a reception for Al Smith or Julius Caesar or Ganna Walska, or somebody.
"And what did the Yankees get? You'd never be able to guess. When their train pulled in one lone porter was in the station to greet them. He eyed the team suspiciously and suddenly walked off. 'Hey,' cried Mr. Babe Ruth, who is seldom at a loss for words, "where are you going?' The porter kept on walking. 'I know you fellows,' he shot over his shoulder. 'You're the Yankees and you'll have to carry your own baggage. I ain't gonna take no chances o' losin' my job.'"[4]
Haines and Reuther both pitched well in the early going. In the second, Cardinals left fielder Chick Hafey doubled down the left-field line but was stranded when Tommy Thevenow lined out to Yankees center fielder Earle Combs.
The Yankees threatened in the third when Joe Dugan singled and Combs drew a two-out walk, but Mark Koenig grounded out to end the inning.
The Cardinals got runners to second and third in the bottom of the third when Haines singled, Taylor Douthit walked, and Billy Southworth bunted them over. However, Ruether once again escaped trouble, getting Hornsby to pop out and Jim Bottomley to line out to center field.
St. Louis finally broke through in the fourth after a 32-minute rain delay during the Yankee's half of the inning. After Les Bell singled and Bob O'Farrell drew a walk, Thevenow hit a ground ball to second base. Tony Lazzeri fielded the ball cleanly and threw to Koenig at shortstop for the second out of the inning, but Koenig's throw bounced past Lou Gehrig at first base, allowing Bell to score. The hometown crowd had scarcely settled down when Haines launched a pitch into the right-field pavilion to give the Cardinals a 3-0 lead.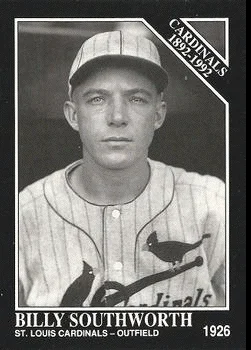 In the fifth, Southworth and Hornsby each singled before Bottomley scored Southworth with a ground ball to second base. With the St. Louis lead now 4-0, the Yankees turned to Bob Shawkey, who retired the next eight Cardinals batters in order.
Despite Shawkey's success, Haines wasn't done with his heroics, working around a leadoff single by Gehrig in the seventh and a leadoff walk to pinch hitter Ben Paschal in the eighth. In the ninth, Gehrig hit a one-out single to right field, but Haines got Lazzeri to ground into a 6-4-3 double play to end the game.
"The big right-hander had as much stuff as I have ever seen him possess during all his years in the National League," Alexander wrote about Haines' performance for the St. Louis Post-Dispatch.[5]
In another column for the Post-Dispatch, Hornsby wrote that Haines "was as good in the ninth inning as at the start. I believe he could have shut out the Yankees for nine more innings the way he was going."[6]
With the win, the Cardinals had a 2-1 series lead and left the Yankees frustrated.
"I can't see the Cardinals as a ball club, no matter if they did lick us today," said Babe Ruth, who had gone 2-for-10 with two walks in the first two games. "There are at least two better clubs in the National League – Pittsburgh and Cincinnati. The Cardinals have been lucky, that's all, by getting a lot of flukey hits. We are not licked yet. Tomorrow is another day. When we start hitting it will be a different story."[7]
Yankees manager Miller Huggins was more diplomatic in crediting the Cardinals pitching staff for holding his team to 15 hits over the first three games of the series.
"We have faced three of the best pitchers on the St. Louis staff," he said. "We are bound to hit better from now on. The Cardinals' staff cannot hold up the standard of pitching set by Alexander, (Bill) Sherdel, and Haines."
Meanwhile, Hornsby and the Cardinals were more confident than ever.
"It looks like we'll win the series now for sure," Hornsby said. "If we lose tomorrow we will fight all the harder, but I don't think we will lose. … If we can keep them from hitting, that's all that will be necessary to make us champions, for I'm confident there is nothing that can stop the batting of the Cardinals."[8]
In the New York Daily News, Hellinger's article reflected the frustration brewing in New York: "Great place, St. Louis," he wrote. "When I arrived here last night, it was raining. It rained this morning. It will rain next week. It will probably rain here forever. I hope it does. It will serve all these St. Louisans right. There's a lot of good cheer in this town – but it's all for the Cardinals."[9]
---
Enjoy this post? Follow stlredbirds.com on Twitter or enter your email below to get new posts sent directly to your inbox!
---
[1] Charles F. Faber (2014), The 1934 St. Louis Cardinals (Kindle Android version retrieved from Amazon.com), Location 5247.
[2] Charles F. Faber (2014), The 1934 St. Louis Cardinals (Kindle Android version retrieved from Amazon.com), Location 5466.
[3] Paul E. Doutrich, The Cardinals and the Yankees, 1926: A Classic Season and St. Louis in Seven (2021), Kindle Android version retrieved from Amazon.com, Location 2419.
[4] Mark Hellinger, "Cards Make Haines While Sun Shines; Beat Rain as Well as Yanks!" New York Daily News, October 6, 1926: Page 44.
[5] Grover Cleveland Alexander, "Haines Unbeatable and That's the Whole Story of the Third Game, Says Alexander," St. Louis Post-Dispatch, October 6, 1926: Page 24.
[6] Rogers Hornsby, "Hornsby Says Hains Could Have Shut Out Yanks For 18 Innings," St. Louis Post-Dispatch, October 6, 1926: Page 24.
[7] Charles W. Dunkley, "Stinging Defeat Galls Yanks; Ruth Whines Like a Babe," St. Louis Globe-Democrat, October 6, 1926: Page 1.
[8] Charles W. Dunkley, "Stinging Defeat Galls Yanks; Ruth Whines Like a Babe," St. Louis Globe-Democrat, October 6, 1926: Page 24.
[9] Mark Hellinger, "Cards Make Haines While Sun Shines; Beat Rain as Well as Yanks!" New York Daily News, October 6, 1926: Page 44.