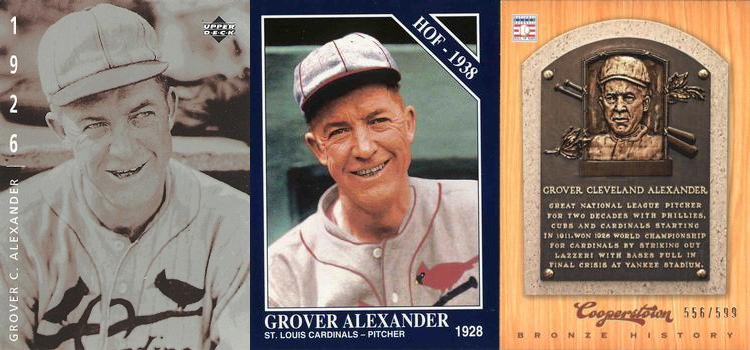 On January 18, 1938, Grover Cleveland Alexander, the hero of the Cardinals' 1926 World Series championship, became the lone player elected in the National Baseball Hall of Fame class of 1938.
Alexander spent just 3 ½ seasons with the Cardinals as part of a 20-year career, but he made them count. In 1911, Alexander debuted with the Phillies and led the league with 28 wins. He received $250 per month for his efforts. Even in 1938, United Press correspondent George Kirksey noted that sum was "less than half of what the lowliest rookie gets nowadays for sitting on the bench."[1]
In his first seven seasons in the league, Alexander averaged 27 wins and 356 innings per season. In 1915, 1916, and 1917 he won the ERA title and piled up 94 wins, winning at least 30 games each season. In 1915, he threw four one-hitters on his way to a 1.22 ERA. The following season, he threw 16 shutouts among his 33 wins.
In December 1917, the Phillies traded Alexander and Bill Killefer to the Cubs for Pickles Dillhoefer, Mike Prendergast, and $55,000. After just three appearances with the Cubs, however, Alexander went to France with the 89th Division, where he served as an artillery sergeant and was regularly exposed to heavy artillery during World War I. When he returned, Alexander suffered from partial hearing loss and epilepsy. He drank whiskey to help control his seizures.[2]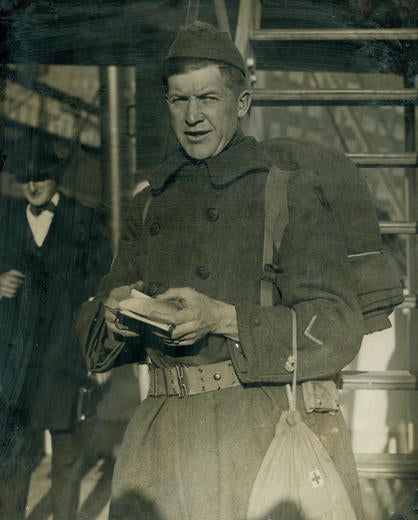 Somehow, that didn't prevent him from being an effective pitcher with the Cubs. In 1919, he won 16 games and led the National League with a 1.72 ERA. The next year, he led the league with 27 wins, a 1.91 ERA, 173 strikeouts, and 363 1/3 innings.
Alexander continued to lead the Cubs' staff until June 1926, when Chicago released him for breaking team rules. With Branch Rickey out of town, team owner Sam Breadon signed Alexander off waivers with manager Rogers Hornsby's support.[3]
The 39-year-old Alexander appeared in 23 games the remainder of the regular season, going 9-7 with a 2.91 ERA in 148 1/3 innings. With an 89-65 record, Alexander and the Cardinals won the National League pennant by two games over the Reds, earning the right to play the Yankees in the World Series.
After the Yankees won Game 1, the Cardinals turned to Alexander in Game 2. "Old Pete" held Babe Ruth, Bob Meusel, Lou Gehrig, and the rest of the New York lineup to one earned run on four hits in a 6-2 Cardinals victory.
With St. Louis trailing the series three games to two, Alexander came up big once again in Game 6. In another complete-game effort, he allowed just two runs on eight hits to force a decisive Game 7.
With the world championship on the line, Hornsby and the Cardinals called upon Alexander one more time. After Jesse Haines, plagued by a loose and bloody fingernail, walked Gehrig to load the bases in the bottom of the seventh, Hornsby called upon Alexander with a 3-2 lead and Tony Lazzeri at the plate.
"The bases are packed, Alex," Hornsby greeted the veteran pitcher.
According to one account, Alexander replied, "Three on, eh? Well, there's no place to put Lazzeri, is there? I'll just have to give him nothin' but a lot of hell, won't I?"[4]
After three warm-up pitches, he did exactly that, striking out Lazzeri to end the inning. He then threw two more scoreless innings to secure the Cardinals' first World Series title.
In the Cardinals' clubhouse after the game, legendary New York Giants manager John McGraw said, "There you see the man who gave us the greatest pitching feat baseball has furnished since Christy Mathewson shut out the Athletics three times in a row."[5]
Alexander pitched three more seasons in St. Louis, winning 21 games with a 2.52 ERA in 1927 and adding 16 more wins in 1928. The Cardinals traded Alexander to the Phillies in December 1929, where "Old Pete" played the final season of his major-league career.
His 373 career wins were a major-league record. His 2.56 career ERA included 90 shutouts.
"When I had it, I gave it – for 20 years," he said.[6]
In 1936, the first year in which the Baseball Writers' Association of America conducted a Hall of Fame vote, Alexander received 24.3% of the vote. The following year, his 62.2% gave him more votes than anyone who didn't reach the 75% threshold necessary for induction.
In 1938, Alexander received 212 of 262 votes, eclipsing the 197 votes he needed. He was trailed by George Sisler with 179 votes (68.3%), Willie Keeler with 177 (67.6%), and Eddie Collins with 175 (66.8%).
Alexander said he felt "like going into a corner where no one could see me and giving myself a pat on the back."[7]
In the Moline Dispatch, Gayle Talbot wrote:
Alexander's election is certain to strike a popular chord. There had been grumblings because he was not named earlier, and a belief by some that he might never attain the honor because he was, toward the sunset of his career, a very rugged individualist of the diamond, a man who didn't worry about training rules.
"I'm happy to see Old Pete get in there," said a prominent baseball official who knew Alexander throughout his big-league service. "He was a wonderful pitcher, at least the equal of Mathewson, and the fact that he broke training now and then doesn't matter."[8]
At the time of his election, Alexander worked as a greeter for the Empire Hotel in Springfield, Illinois.[9] Still battling alcoholism and health issues, Alexander had arrived in Springfield in a sorry condition one year earlier. Johnny Connors, a local sports promoter and operator of the Empire Hotel, paid for Alexander to receive hospital treatment and – once Alexander recovered – gave him a job at the hotel tavern. While Alexander was allowed to drink beer while he regaled customers with stories of the majors, Connors made him promise to lay off the "hard stuff."[10]
"The Hall of Fame is fine, but it doesn't mean bread and butter. It's only your picture on a wall," said Alexander from the Empire Hotel bar, where he gestured at the photographs of athletes, politicians, and actors that lined the walls. "This place is hall of fame enough for me. If I can get my picture up there, I'll be satisfied."[11]
---
Enjoy this post? Find similar stories listed by decade or by player. You also can enter your email below to get new posts sent directly to your inbox!
---
[1] George Kirksey, "Grover Cleveland Alexander Voted Into Baseball's Hall Of Fame," St. Louis Star and Times, January 19, 1938.
[2] Paul E. Doutrich (2021), The Cardinals and the Yankees, 1926: A Classic Season and St. Louis in Seven, Kindle Android Version, Location 1076.
[3] John Heidenry (2007), The Gashouse Gang, PublicAffairs, Kindle Android Version, Page 38.
[4] Charles C. Alexander, Rogers Hornsby (Kindle Android version retrieved from Amazon.com), Page 119.
[5] James R. Dawson, "Alex's Feat Rates Him with the Immortal 'Matty,' Says McGraw," St. Louis Globe-Democrat, October 11, 1926, Page 12.
[6] George Kirksey, "Grover Cleveland Alexander Voted Into Baseball's Hall Of Fame," St. Louis Star and Times, January 19, 1938.
[7] George Kirksey, "Grover Cleveland Alexander Voted Into Baseball's Hall Of Fame," St. Louis Star and Times, January 19, 1938.
[8] Gayle Talbot, "Grover Cleveland Alexander's Name Added to Baseball's Hall of Fame," Moline Dispatch, January 19, 1938.
[9] George Kirksey, "Grover Cleveland Alexander Voted Into Baseball's Hall Of Fame," St. Louis Star and Times, January 19, 1938.
[10] "Alex Tickled About Honors, But His Springfield Benefactor Comes First," Moline Dispatch, January 19, 1938.
[11] "Alex Tickled About Honors, But His Springfield Benefactor Comes First," Moline Dispatch, January 19, 1938.